Final leg
Rochester, Illinois. Extrordinary friendly people. I arrived after hours, but found a helicopter pilot who was in his hangar with his crew tightening the wing nuts or whatever, and he made a few phone calls and came up with a car for me to borrow over night to get to a motel.

Crossing the Mississippi.
Highway 80 off my left side. The view pretty much never changed all day.

Stopping to buy charts. What's the point of having a plane that can fly 600 miles at a hop if you can only buy charts 300 miles at a time. Next time, I get all my charts in advance.

More clouds
North Platt, NB, FBO of the Plains.

Fuel stop.

Grange. Sort of a union hall for famers.

Sharon and Squick the Cat.

Squick the cat. When you pass by this cat, she makes a low angry mrowwwrrrrrr sound, which either means "Pet me or die" or sometimes it just means "Die". But don't worry, the scars are almost healed.

You don't get watering troughs like this in San Francisco.
Roses
Yep, it's a farm.
Smug cat. One of two identical twins; if it were up to me, I'd have named them Fred and George.

Another Grange. Half buried; I don't know why.
---
Visting the museum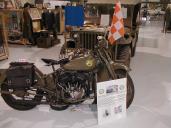 Lamps made out of shells by bored soldiers.

Ready to take off, Nampa ID While I was pre-flighting the plane, a thunderstorm came by, so we all ran for shelter. Then a dust storm came through. Then a wind storm. By the time I was ready to take off, the plane was coated brown with dust.

I can see your house from here.

River.

Pyramid Lake.

Reno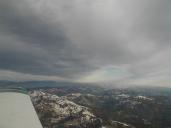 Lake Tahoe.