Washington D.C.
Arrived on Friday evening; it took Chris Hill over an hour to drive the distance to Manassas airport during rush hour. Then off to a Turkish restraunt for a dinner that couldn't be beat. It rained all day on Saturday so we just hung out and then went over to Chris Shenton's for another dinner that couldn't be beat.
Chris Hill's cat Isis. You may know her better from her roll as the cat in Kiki's Delivery Service

Chris Shenton's kitchen

Cats love rebar.

Gourmet dinner being prepared.

Magic tricks. By the time you have enough corks to do this trick, you're too drunk to manage it.

story time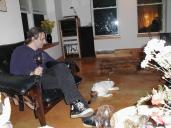 Just like hanging out at WRPI late at night, but with wine instead of Cöke.

Gourmet breakfast.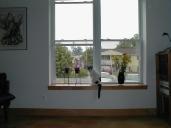 Cat.

Obligitory pictures of clouds.