Vacation, day 1
Central Valley
Fox Airport
City on a plateau
Entering Arizona
Tucson
Replica of Wright Flyer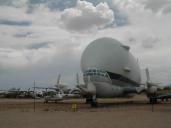 Yes, it's a real plane, used to transport Saturn V boosters. It's called a Boeing Model 377 Super Guppy; based on the C-97 Stratofreighter.
The little V-tail Bonanza parked under its wing belonged to Marion Rice Hart, a 1914 MIT graduate who got her pilot's license at age 54 and flew this plane solo across the Atlantic at age 74.

Another view

Air Force 1; used by Kennedy and Johnson

Presidential support plane; used to return Iranian hostages in '81, it was known as "Freedom 1"